PeerPilot has a wide range of uses and can support external or internal assessments as well as innovative projects. The dynamic platform will allow each team member to contribute in his or her own time and independent of location. Interaction with PeerPilot is simple and does not require any technology adoption. You will be guided through the entire process by PeerPilot's service team.
Easy Integration
It is easy to integrate PeerPilot into your recruitment process. PeerPilot can be deployed as the first step in the screening phase or after an initial screening for formal requirements.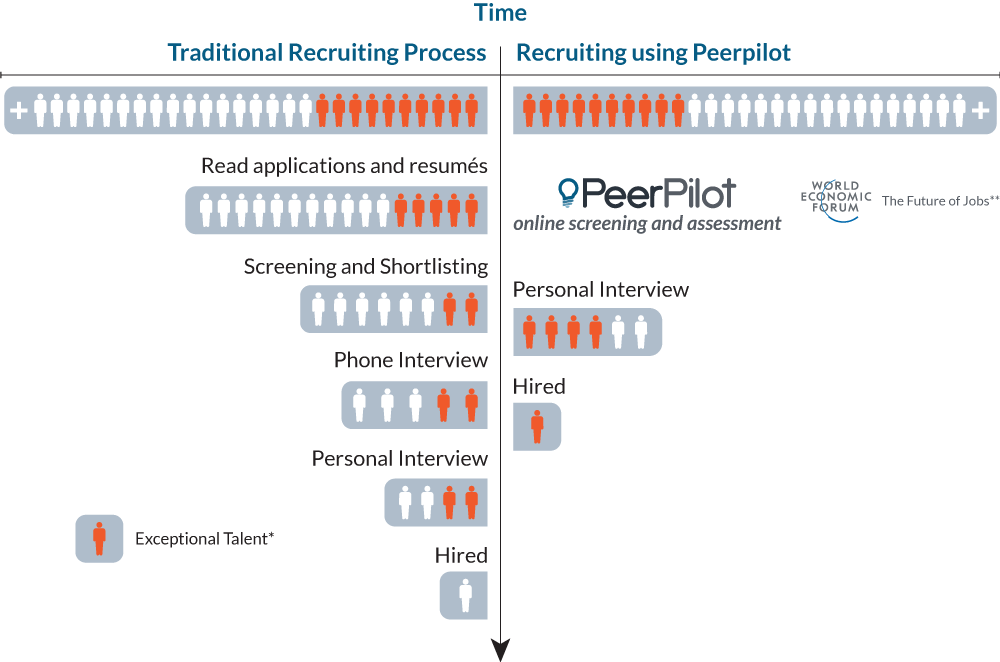 *Talent that possesses the skills, initiative, attitude and capabilities to help organizations meet business challenges in an ever-changing environment.
** Top three skills: 1. Complex problem solving, 2. Critical thinking, 3. Creativity.
As a SaaS platform, it requires no technology adoption, and data is exchanged via standard data formats. APIs can be developed to our open data exchange interfaces.
For recruiters, using PeerPilot involves three activities:
Developing the business case or selecting one of our cases
Inviting the candidates
Analyzing candidate results
The candidate journey is completely self-driven and can be monitored in real-time. The process is fully supported by PeerPilot so nothing is required from you during the process.
The process can be executed in a couple of hours or over the course of three to four days depending on the case. The important thing is to allow sufficient time for solution development. Whether there are hundreds of candidates or just a few, recruiters will benefit from an efficient assessment process, in-depth insights into each candidate's performance, and creative solutions to their business cases.
Business case development
Whether you decide to develop your own business case—potentially based on an actual business challenge—or decide to select one of our existing business cases, PeerPilot will guide you through the entire process. The business case is the foundation for the assessment and the single custom element that defines it. The adaptable nature of PeerPilot means the possibilities for the roles and industries in which it can be deployed are endless. Documents, presentations, videos, etc. can also be shared with the candidates on PeerPilot in order to more effectively prepare them for the upcoming assessment process—which means the technical level of the case can be as complex as is necessary.
Success Stories
Finding the best candidates for public sector IT
KMD is a leading supplier of mission-critical software, solutions, and IT services to the Nordic public sector. As one of the first companies to adopt PeerPilot in the graduate recruiting process, KMD is now an instrumental part of the PeerPilot system. Each year, KMD invites candidates to apply for its graduate program, which covers several business areas and involves hundreds of candidates from leading academic institutions.
PeerPilot was deployed early on in KMD's selection phase as the main evaluation tool for screening candidates on an objective and uniform basis. KMD created a number of specific business cases tailored for each business track, and PeerPilot funneled the candidates into the relevant game rooms. PeerPilot executed the various business tracks simultaneously, allowing each candidate to collaborate and be evaluated against his or her peers without any participation from the client.
Using PeerPilot has saved the graduate program significant resources in the screening and assessment of applicants and has provided candidates with a level playing field. At the same time, the applied normative evaluation criteria have enabled the creation of a threshold for the key skills required by KMD.
KMD summarizes the experience: "PeerPilot provides a fantastic point of departure in selecting the right candidates in combination with their work history. The platform is innovative and follows the trend of the times in using gamification, which is part of why it has also been popular with the candidates."
Bringing innovative talent to an international engineering company
Grundfos is a global leader in advanced pump solutions and a trendsetter in water technology. Grundfos makes products and solutions that help customers save natural resources and reduce climate impact—a process driven by the passion and potential of its employees.
Grundfos initially began using PeerPilot for internal assessments but has expanded its use to the recruitment of global talent for engineering, sales, and project management positions. Working in Grundfos means working globally, so the talent is selected based on qualification—not location. The PeerPilot assessment has allowed Grundfos to evaluate applicants not only as competing candidates for a specific position but also as potential members of a cross-national team. As a leading player in the global effort to reduce CO2 emissions, Grundfos values new engineering staff with innovative thinking—a skill PeerPilot is especially designed to evaluate.
"PeerPilot has allowed Grundfos to obtain insights beyond a candidate's resume and look at actual candidate behavior and performance. The simulated business environment provides the foundation for the selection of the best candidates and future managers in Grundfos."