Screening and assessing candidates is a complex task and requires a significant amount of resources. According to Bersin by Deloitte do 52% of HR leaders say the most difficult part of recruitment is identifying the right candidates. While most recruiters rely on resumes for candidate screenings, a resume may not be a normative representation of a candidate, but a representation of how a candidate would like to be perceived. Furthermore, a resume does not indicate how a candidate will perform in the environment and position applied for. PeerPilot offers an answer to this challenge via our unique approach of, putting the candidates to the test in a realistic problem scenario. The process and collaborative exercise allow PeerPilot to evaluate candidates based on their actual performance during the exercise.
A PeerPilot screening accomplishes the following:
All results and behavioral variables are presented in individual assessment reports making it easy to identify and compare candidate performance.
The Screening Process
PeerPilot is a cloud-based screening platform that allows recruiters to screen and evaluate talent based on actual performance while solving a business challenge. Not only will recruitment time be significantly reduced, but the dynamics of the process will also be impacted by introducing realistic problems very early in the recruitment phase.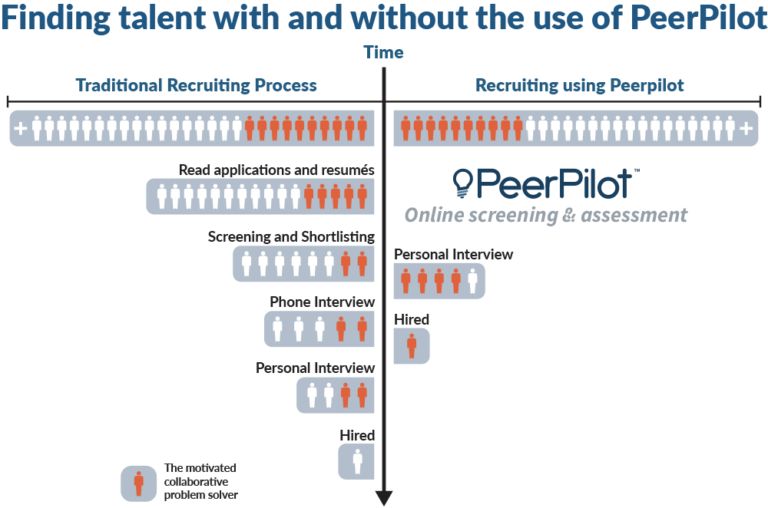 The process revolves around relevant business cases and a dialogue-based collaboration process designed to solve real business challenges. The candidates will collaborate anonymously in teams and demonstrate their skills on equal terms, ensuring objectivity and consistency in the assessment process.
PeerPilot allows for the evaluation, ranking, and selection of candidates based on their actual performance on cognitive impact, motivation, collaborative skills, holistic thinking, and communication skills.
The Science
PeerPilot is founded upon two key principles, that actions speak more than words and that candidates should be evaluated unbiased and on equal terms. The patented concept is based on a structured and transparent collaborative workshop inspired by Design Thinking principles, which have been further developed in collaboration with the UNESCO Centre for Problem Based Learning, organized under the United Nations, and our behavioral psychologists. The method is focused on cognitive problem solving, behavioral aspects as well as situational awareness elements.
Letting potential employees or team members solve a realistic business problem, does not only demonstrate how candidates approach complex problem solving and their team dynamics, but it also introduces the candidates to the environment they are supposed to perform in, aligning expectations between employer and employee.
PeerPilot algorithms translate candidate screening data into relative evaluation scores, defined by PeerPilot's behavioral psychologists and data scientists. The algorithms are not subject to inherent bias and are continuously benchmarked via real-life testing and comparative benchmark studies.